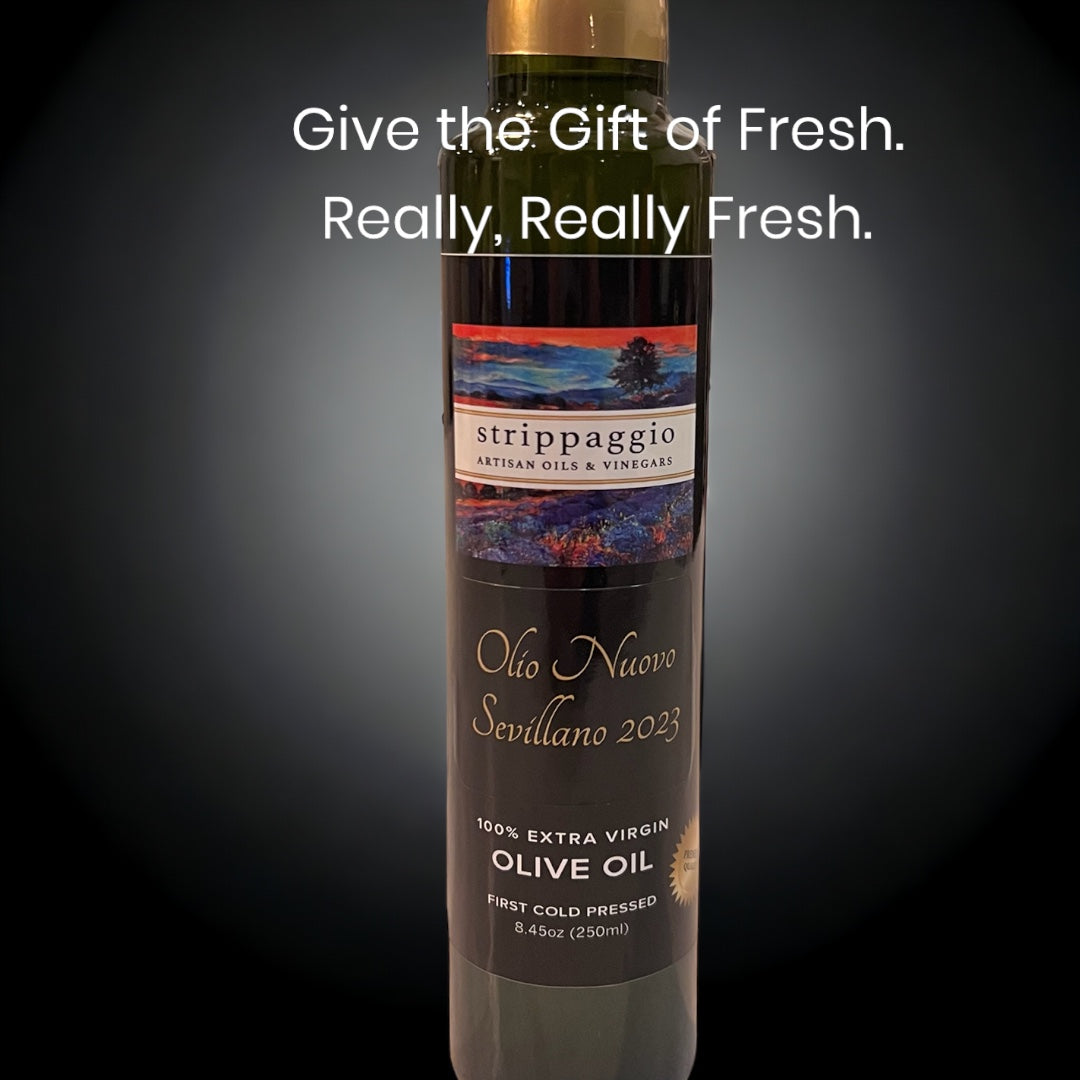 Send the Best to Your Best.
The Gold Standard of Extra Virgin Olive Oil, Olio Nuovo  -- (new oil in Italian) -- is the first cold press of the fall harvest.  Produced in limited, small batches, this is the freshest extra virgin olive oil with an amazing flavor.
Aren't they worth it?
Buy Olio Nuovo Now
Why is Strippaggio So Flavorful?
Why does "Fused" Matter

Our premium 100% extra virgin olive oils are "fused" meaning the flavors (Basil, Garlic, Lemon) are crushed together with the ripe olives immediately after harvesting, resulting in deeper, truer and more intense flavors and aromas. Our oils are heart healthy and full of anti-oxidants and polyphenols.

Why our Balsamic Vinegars Taste Great

Our premium barrel aged balsamic vinegars are sourced from Modena, Italy where up to seven different varieties of grapes are crushed, mixed with grape must, concentrated wine vinegar and fresh wine vinegar, aged in oak barrels, and fermented until the taste is flawless and approved by the master vinegar maker.
Baking

Replace butter with heart-healthy EVOO for a more flavorful, healthier experience. And you might want to throw some Blood Orange EVOO over those brownies.

Appetizers

Great over charcuterie meats & cheeses. Takes the ordinary into the sublime. Favorites are Fig & Dark Vinegars for blockbuster taste.

Veggies

Mix 'n match oils & vinegars to your hearts delight! Some of our favorites are Lemon & Cranberry Pear, and Blood Orange & Fig.

Salads

Salad dressings are everyone's go to for Oil & Vinegar. With 25 flavors - the combinations are endless and delicious.

Main Courses

Drizzle over meats, poultry & fish for a different flavor every day. Some favorites are Dark over Steak, Fig over Pork Chops and Lemon over salmon fillets. But don't take our word for it - there are a thousand combinations.

Desserts

Pour vinegars over berries, ice cream, and cake for a treat every day. Don't forget the whipped cream. Our favorites are Blueberry, Peach, Strawberry and Dark Vinegars.

Pasta

Pasta comes alive just by tossing it with Basil or Rosemary EVOO. Add your favorite toppings and dinner is served.

Breads

Warm, crusty bread, dipped into aromatic Basil or Rosemary oil, with a few drops of Dark Barrel-Aged Vinegar. Or try just Lemongrass Vinegar - yum.
Delicious Recipes
Whole Roasted Chicken

From our friends at Portland Salt Company

Ingredients

1 Whole Chicken, preferably organic/free range, 4lbs
2 Onions, red or white, peeled and quartered
Big Pinch Kosher or Sea Salt
2 Lemons, halved
4 Cloves Garlic, minced
3 Tbs Portland Pita Salt
⅓ Cup Strippaggio Lemon Extra Virgin Olive Oil

Instructions

Pre-heat oven to 425 degrees F or 215 degrees C.
Place whole chicken in a heavy bottom, oven proof skillet or cast-iron pan and pat dry with paper towels. Season inside the chicken generously with salt and tie the legs together with cooking twine.
Make the marinade by combining garlic, juice of half a lemon, Lemon olive oil, and Portland Pita Salt in a small bowl and whisk together.
Rub the marinade all over the chicken, including under the breast skin. Season with additional pinch of salt all over the skin. Roasted chicken LOVES salt.
Layer the onions and remaining lemons around the chicken and place the pan in the oven, setting a timer for 20 minutes.
After 20 minutes, drop the oven temp to 375 degrees F or 190 degrees C and continue to roast chicken another 50-60 minutes. When the internal temperature reaches 165 degrees F or 75 degrees C your chicken is fully cooked.
REST, REST, REST! Rest the chicken, tented in foil for at least 15 minutes before carving and serving.
Skim off the fat from the pan drippings and turn into a simple pan sauce or simply pour the juices over the chicken before serving. Bon Appetite!
Shrimp Saute with Persian Lime EVOO

Shrimp Saute with Persian Lime EVOO

Ingredients:

1 lb. Shrimp - Peeled
1 Red Bell Pepper - diced
1/2 red onion - diced
6 Large grape tomatoes - roughly diced
6 tbsp. Persian Lime EVOO
3 garlic cloves - diced
1 lime - sliced
1 tbsp Cumin
Salt & Pepper

Marinate Shrimp with 3 tbsp EVOO and 1/2 the cumin for 30-45 minutes.  On medium heat, saute Shrimp with 2 tbsp. EVOO and sprinkle a little more Cumin, salt & pepper.  Cook about 3 minutes per side.  Remove shrimp from pan.  Add 1 tbsp EVOO, onions and pepper and saute for about 3 minutes.  Add garlic, tomatoes and a little more cumin, salt & pepper and saute for one more minute.

Remove from heat, garnish with more tomatoes and lime.  Serve over rice or pasta. 
Grilled Vegetables

Start with broccoli and cauliflower florets.  Toss  Mission Blend Extra Virgin Olive Oil, then sprinkle with a little salt and pepper to taste. Cook in air fryer for 5-8 minutes, then drizzle with Fig Balsamic Vinegar.
Pistachio Salsa Verde

 2 medium shallots, coarsely chopped
1 garlic clove, coarsely chopped
1 cup fresh parsley leaves and tender stems, packed
½ cup unsalted toasted pistachios
¼ cup fresh lemon juice
2 Tablespoons capers
½ teaspoon crushed red pepper
¾ teaspoon kosher salt
½ cup Strippaggio Arbequina Olive Oil

Pulse shallots, garlic, parsley, capers and lemon juice in food processor until finely chopped.  Add pistachios, salt and red pepper and pulse until nuts are coarsely chopped. With food processor running, slowly add olive oil. Taste and add more salt if desired.  

(Perfect with chips, mixed into a white chicken chili, and with grilled fish, steak and potatoes)

 
Blood Orange Fennel Marmalade

2 Heads Fennel

3 Shallots

Juice from 1 Orange

1 tsp Sugar

Salt

Strippaggio Blood Orange Olive Oil

Strippaggio White Balsamic Vinegar

1. Remove stalks and fronds from fennel and thinly and evenly slice fennel bulb, removing hard center

2. Thinly slice shallots

3. Heat large saute pan over medium heat and add about 1/4 cup Blood Orange Olive OIl. When olive oil warms, add fennel and shallot - cook for about 10 minutes, until just starting to brown, then lower heat. Add sugar and a pinch of salt and stir to combine. Cook for about another 45 minutes, stirring occasionally, and adding a tablespoon of orange juice to release fennel if it sticks to the pan. You want the fennel to turn golden and jam-like.

4. Once desired consistency is met, turn off heat and drizzle with White Balsamic Vinegar.

Serve as a bruschetta topping, in an omelette or frittata, as a relish for sandwiches (think jammy grilled cheese!), or tossed with pasta or risotto.
Grilled Shrimp with Orange Sesame Sauce

Grilled Shrimp with Orange Sesame Sauce

Sauce:

1/4 cup honey
1/4 cup unseasoned rice vinegar
2 teaspoons minced fresh ginger
2 teaspoons low-sodium soy sauce or tamari
1 teaspoon chili-garlic sauce
1 teaspoon sesame oil
1 teaspoon blood orange olive oil
2 tablespoons each, chopped cilantro and mint

Shrimp:

2 pounds peeled and deveined large shrimp
2 tablespoons blood orange olive oil
salt & pepper, to taste

Toss shrimp with olive oil and salt and pepper to taste. Grill about 4 minutes per side.  For sauce, mix first 7 ingredients together with a whisk.

Arrange herbs on a platter and top with grilled shrimp; drizzle with sauce to serve.
Herbed Lime Dressing

(Excellent as a salad dressing, fajita seasoning, and roasted shrimp base)

½ cup arugula, packed
½ cup fresh mint leaves, packed
¼ cup fresh cilantro leaves and tender stems
½ teaspoon finely grated lime zest
¼ cup fresh lime juice
½ teaspoon honey
¼ cup Strippagio Jalapeño Olive Oil
chopped jalapeño, optional
Kosher Salt, Black Pepper

Place all ingredients in food processor and run until leaves are finely chopped and emulsified. Add fresh chopped jalapeno for extra heat, if desired. Season with salt and pepper to taste.
Tomato-Poppin' Pasta

PREPARE:

Coat 9x12 baking dish with Strippaggio Italian Herb Olive Oil.  

Place 8 oz. feta cheese in middle.  

Spread 2 cups cherry tomatoes & 4 minced garlic cloves around cheese. 

Drizzle 4 tbsp's Strippaggio Basil Olive Oil over everything. Salt/Pepper to taste.

BAKE:

Bake uncovered at 375 for about 30 min until tomatoes are 

popping

.  

Drizzle 2 tbsp's Strippaggio Italian Herb Olive oil over dish and mix together.  

Pop unpopped tomatoes with knife.

EAT:

Top with shredded fresh basil - serve over 

pasta

.

Serves 4.
Italian Basil Pesto

Lemon EVOO

(Mix with fresh-made pasta, stuff into chicken breasts with spinach and tomato, top fresh fish with pesto and panko, use as pizza topping or spinach salad dressing)

4-6 garlic cloves
½ cup pine nuts (or walnuts), toasted
2 cups fresh basil, packed
½ cup grated Parmesan cheese
½ cup Strippaggio Basil Extra Virgin Olive Oil
Kosher salt / black pepper

 Place garlic, nuts and basil in food processor and pulse until finely minced. Add Parmesan and pulse again until mixed through. Slowly stream in olive oil and blend. Season with salt and pepper.
Minted Pea Puree

(Fantastic as a raw or roasted crudité dip, over poached seafood, mixed with pasta primavera and as a sandwich spread)

 2 cups frozen peas, thawed (about 10 ounces)

1/3 cup fresh mint leaves, packed

1 garlic clove

½ teaspoon kosher salt

½ teaspoon fresh ground black pepper

½ cup grated Parmesan cheese

½ - ¾ cup Strippaggio Lemon Olive Oil

 

Combine peas, mint, garlic, salt and pepper in food processor and puree until smooth. Add Parmesan and pulse until well mixed. With food processor running, slowing add olive oil.
Balsamic Soaked Berries

receipes stuff to do

Balsamic Soaked Berries

12 large ripe strawberries - washed and quartered
4 tablespoons Strippaggio Barrel Aged Balsamic Vinegar (Fig, Espresso,
Chocolate are also wonderful here)
4 tablespoons packed coconut sugar
Vanilla Ice Cream

In a small heavy saucepan heat vinegar and sugar over moderate heat,
stirring, until sugar is dissolved. Simmer for about two minutes until thick
and syrupy. Remove pan from heat to rest and cool. Toss strawberries into
balsamic glaze and stir to coat. Scoop ice cream into 2 bowls and top with
strawberries. Shaved chocolate or mint sprigs make a nice garnish.

Serves 4
Pasta with Basil EVOO

Pasta:

Cook any pasta - ravioli, linguini, etc.  Toss with basil olive oil and sprinkle with parsley and serve.
Steak Salad

Create salad base.  Lettuce, broccoli florets, Cucumber, Yellow and red grape tomatoes, red onion, croutons - add anything you like in a salad.  Toss pieces of steak in.  Salad dressing as follows:

2/3 white balsamic vinegar
1/2 mission bland

Salt and pepper to taste